"KAMEN NO NINJA AKAKAGE"
― A scroll painting of ninja arts that spread high and low. A live action period fantasy. ―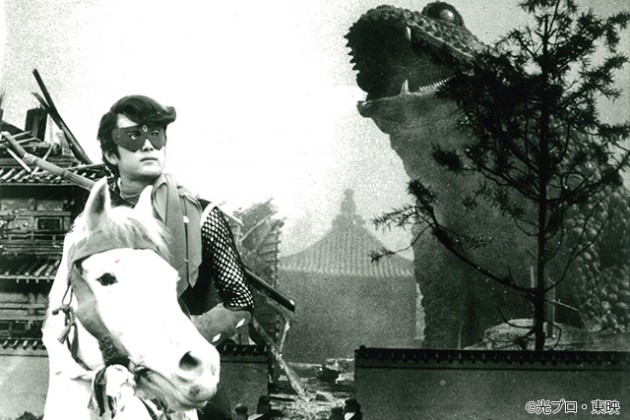 Director:【Epsode1】Junji Kurata【Epsode10】Tetsuya Yamanouchi
Screenplay:Masaru Igami
Original Author:Mitsuteru Yokoyama
Cast:Yuzaburo Sakaguchi, Fuyukichi Maki, Yoshinobu Kaneko
Music:Hirooki Ogawa
Country:Japan
Year:1967
Runtime:25min
Presented by TOEI COMPANY, LTD.
Story
【Epsode1】When Hideyoshi Toyotomi was still named Toukichiro Kinoshita, a strange religious cult, Kinme-kyo was trending about the south of Biwa Lake. Apparently, those who do no put faith in this religion will face a terrible curse. What is the truth behind this? Toukichiro calls upon a masked ninja from Hida to find out about Kinme-kyo's secret. The ninja's name is... Akakage.
【Epsode10】The next that Genyousai sends upon Akakage, is Kouka's fallen ninja, Black Bat. With abilities as high as the shichinin shu, Genyousai takes his wife and children hostage to make him battle against Akakage. Black Bat has no choice but to fight. He uses blood sucking bats that have poisonous gas inside them to push Akakage into a corner...
Highlight
The first colour live action television drama from Toei, based on the popular comic by Mitsuteru Yokoyama. The masked ninjas Akakage, Shirokage and Aokage battle with an organisation that plots the subversion of the government during the Sengoku period. The series set fire to a ninja boom to the home as a completely new form of live action period fantasy, with inhumane ninja skills, enormous robots, and fantastical monsters. Kentaro Satomi's appearance in episode 1 as the genius strategist Hanbe Takenaka is also a must see.